5 Ways to go above and beyond building code when renovating and building new homes
When builders are building to "code", in general, we are building to the minimum standard. There are plenty of ways to invest in better materials and practices and improve on the minimum building code.
At Bang Bang Building we believe a little forethought and extra expense, can potentially save you a lot in the long-term. Building sustainably is an investment – not a cost.
When you're building or requesting quotes, it is a good idea to make sure all the quotes have allowed for the same product.
If you're already building, ask the question of your builder,  How much would it cost to go above and beyond in certain area? Or are there areas of the build that can be improved upon?
1. Insulation
It is the perfect time to put in the highest rated insulation you can afford at the time of construction because you generally only get one shot at it.  In time could save you thousands of dollars in saved energy costs and have a nice warm, comfy home.
2. Window upgrade
If you can afford thermally broken windows,  you can expect them to perform up to 20% better than standard frames.
Low-emissivity glass or Low-E glazing as its referred to allows the heat & light in, but it will also reflect some heat back into your home.
You can expect Low-e glazing to outperform standard double glazed units by up to 20%-30%. Argon gas filling in double glazed units is a better insulator than air,  and you can expect them to reduce heat loss by a further 3%-9%.  This is not a huge saving but another way to make further long-term savings.
3. Building Wrap
Upgrading your building wrap to a solid state,  I.E. Strand board, Ecoply Barrier, or James Hardie Rab board. There are so many benefits of using these products over the minimum requirement (standard building paper). Building Paper also requires a protective band stapled on top of it to keep it protected from the elements.
One benefit from using an upgraded wrap, is that as soon as you have all of the board on the walls and all of the corresponding flashing tapes, the windows and the roof installed and the moisture content is under 18% you can now carry on with all of the internal works as if the cladding was finished.
Another benefit – depending on which product you choose to install – is that it can contribute to a lot of your structural connections, which you would need to install prior to using building paper.  This, in turn, gives your project more structural capabilities.
4. Framing
Framing can also be an area to upgrade. Instead of using the standard 90mm x 45mm,  you could use 140mm x 45mm. This not only gives you more space for higher rated insulation but also the benefit of having a much stronger wall at the same time.
The new material on the market today is SIP's Panels,  which have a higher rate of insulation and great structural benefits as well of the added benefit of going together quite fast because of its Pre-Fab construction.
5. Flooring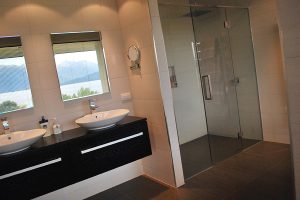 When considering flooring material in wet areas,  you can use concrete based flooring products instead of the timber-based products – which you may then have to cover with a tile underlay (e.g. for tiling).  Using a concrete based flooring product initially, saves you labour in the long term because you have installed the product once only.
If your thinking of renovating or a new build, contact us for a no-obligation quote!
Back